Halfway through the V for Vachowski movie, this not-so-whispered conversation was overheard from the group behind us:
"Dai, do you know who wrote this story?"
"No, Who?"
"Ah! The Tchaikovski Brothers!"
"Oh really?!"

Yes, in as many words. Just sums up the kind of people who think that V for Vacuity is a great movie. And the kind of people that V for Vacuum in their head newspaper reviewers seem to targeting by giving super Star status to V for Vapid. But let's say you do manage to get it out of your head that V for Vandalised was based on a graphic novel called V for Vendetta, even then, even as a movie, V for Vomitus is a vasted effort and time. And as the credits rolled in after the endless torment that was V for Veak and as as I was V for Vailing, this appeared "Based on the graphic novel illustrated by David Lloyd." That says it all. No Moore. And yes, the word 'based' that is the keyword.

Just goes to show that great books should be left to themselves, and should be read and imagined, not seen. Comics fall through the cracks, but still care must be taken. Great stories should be told, not shown. Unless of course you happen to be Shankar Nag. Which nobody is. So leave them books alone. V for Venting Spleen over. And just in case you thought the movie totally and completely killed V for Vendetta, i leave you with what V (the real V, the one in the book has to say about the movie and his treatment thereof):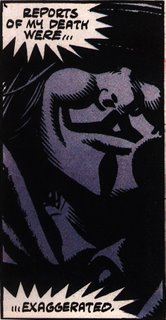 V lives. Because ideas (and great stories) are not just bullet-proof, they're also hollywood-proof. V lives. Go. Read the book. And look out for this panel. Read. The truth will set you free.
Ave atque vale