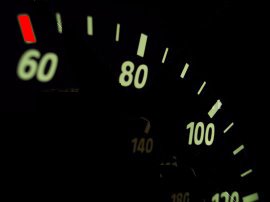 If sixty is their starting speed (as is hinted at from their album cover), expect a lot more from Speedometer 60 in the days to come. Music has progressed, and more than ever bands are coming out with albums that just refuse to be pigeonholed into convenient niches or genres as they are called. This band takes it one step further, with even their individual songs on their self-titled debut album refusing to lend themselves easily to any particular tag. Blues, bluegrass, country, folk, David Bowie, metal, rock (in all its forms). All this and more in one album. Phew!
Speedometer 60. Just another bunch of 4 Liverpudlians who seems to be able to translate their seemingly disparate (and fiercely held) tastes – from comics and music to political leanings and favourite literature – into a seamless blend of great music. The album opens with Up the Ante, a post-punk kind of sound mixed with a smattering of Seattle strains of the Soundgarden variety. Throw in some rage against the machine and a garnish of Janis Joplin and you get the idea. And this is exactly why their songs are so tough to review and best heard yourself.
And there's a bonus as well. Actually three of them. Awesome covers of Silverchair's World upon your shoulders, Joan Baez's Diamond and rust and Robert Johnson's Me and the Devil blues.
So media-shy and publicity-shy that they refuse to even have a website, Speedometer 60 is by far the best buy in a long time. Total value for money. And then some because it happens to be a gift. Speedometer 60 is not just another blip on the radar, it's a massive behemoth. One more thing, the musical adventures apart, the sheer inaccessibility of this album will definitely make some people look for it and own it, if only to say, "Have you heard Speedometer 60?"